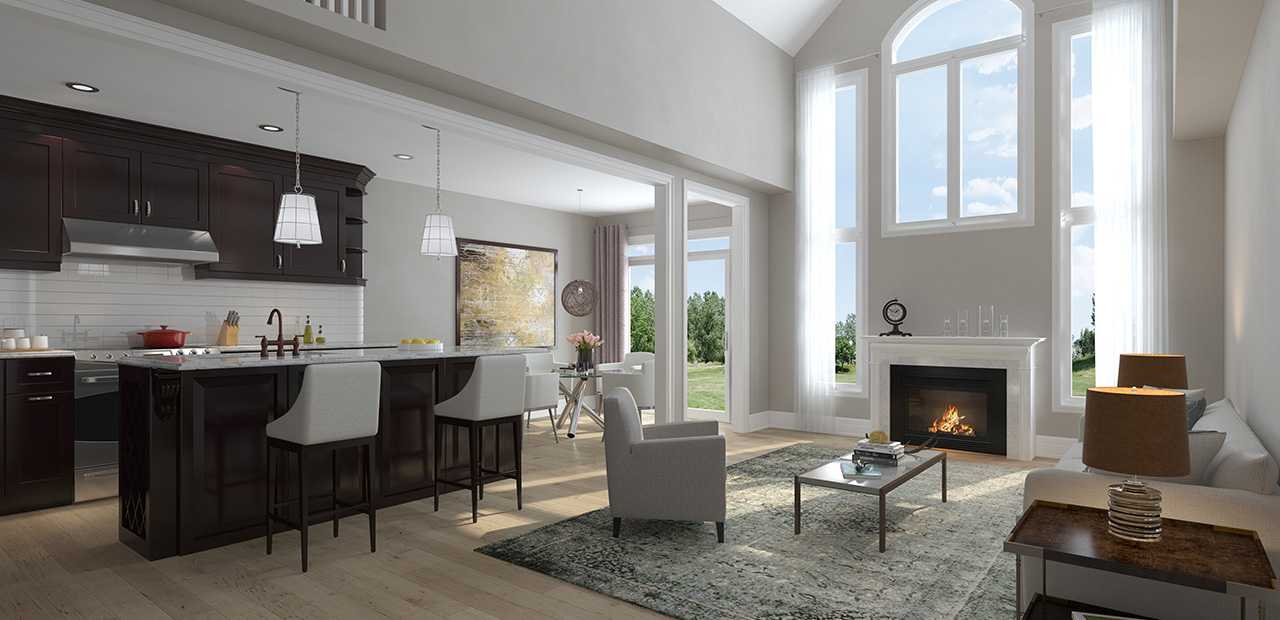 AFTER YOU BUY - OUR COMMITMENT.
Welcome to the Coughlan Homes family of homeowners. We are proud that you have chosen to share your home building experience with us. Please browse through the Homeowner Care section of our website, providing you with all the answers to your home care questions. We want to ensure that your experience is one that inspires.
Thank you again for joining our family. We look forward to working with you and building your dream home together!
I am finding a lot of nail pops and drywall cracks in my home; will these be repaired for me?

These are a result of normal settlement of the house and can be expected. Although these are not covered by the Tarion Warranty, we will repair them once (at the end of the first year) with a coat of plaster. The homeowner will be responsible for finishing beyond this stage.

There are cracks in my basement floor. When will these be repaired?

These are very common and in most cases don't need to be repaired unless they get past 6 mm as per Tarion's guidelines.

There is condensation/ice on my windowpanes – is this normal?

This is a result of high humidity in your home. Please refer to your Coughlan Homes homeowner manual for steps on reducing the humidity in your home.

I can see light and/or feel cold air coming in through the front door. Is it installed correctly?

Yes, door openings are one of the most common items to shift during settlement of your house. Usually a slight adjustment will give your door a tighter seal.

My cabinet doors don't line up; when will you fix this?

This item falls under maintenance. As per Tarion, cabinet doors need to be adjusted from time to time due to normal use. You can try adjusting the doors by turning the screws on the hinges, or add it to one of your Tarion lists and we will be happy to show you how to do it.

Why do the bedroom switches stop working (trip easily)?

The bedroom switches are on arc fault control indicators, which work like G.F.I plugs.
SEASONAL CHECKLIST
The following checklists are derived from those suggested by TARION and Canada Mortgage and Housing Corporation (CMHC).
Regular Maintenance protects your investment in your home.
General Year Round Maintenance
Make sure air vents indoors and outdoors (intake, exhaust and forced air) are not blocked by snow or debris
Check and clean range hood filters on a monthly basis
Test the ground fault circuit interrupter(s) monthly by pushing the test button, which should then cause the reset button to pop up
Have HVAC serviced by a qualified service company every two years
Open furnace humidifier damper on units with central air conditioning and clean humidifier
Check and clean or replace furnace air filters each month during the heating season.
Remove the grills on forced air systems and vacuum inside the ducts
Ensure all doors to the outside shut tightly, and check other doors for ease of use. Renew door weather-stripping if required.
If there is a door between your house and the garage, check the adjustment of the self-closing device to ensure it closes the door completely.
Ensure windows and skylights close tightly
Cover air conditioning units in the winter
Ensure that the ground around your home slopes away from the foundation wall, so that water does not drain into your basement
Clean leaves from eavestroughs and roof, and test downspouts to ensure proper drainage from the roof
Drain and store outdoor hoses. Close valve to outdoor hose connection and drain the hose bib (exterior faucet), unless your house has frost proof hose bibs.
Check exterior finishes. Sand, prime and paint any peeling paint due to weathering.
Check movement of garage doors and lubricate moving parts as needed
Check caulking around doors and windows for air and water leaks
Inspect roof (including shingles, flashing and vents)
Inspect attic for insulation blow back. Spread out insulation evenly if required.
Check water heater for leaks
Winter (December, January, February)
Clean humidifier two or three times during the winter season
Vacuum bathroom fan grills
Vacuum fire and smoke detectors, as dust or spider webs can prevent them from functioning
Monitor your home for excessive moisture levels, for example, condensation on your windows, which can cause significant damage over time and pose serious health problems.
Check all faucets for signs of dripping and change washers as needed. Faucets requiring frequent replacement of washers may be in need of repair.
If you have a plumbing fixture that is not used frequently, such as a laundry tub or spare bathroom sink, tub or shower, run some water briefly to keep water in the trap.
Clean drains in dishwasher, sinks, bathtubs and shower stalls
Test plumbing shut-off valves to ensure they are working and to prevent them from seizing
Examine windows and doors for ice accumulation or cold air leaks. If found, make a note to repair or replace in the spring.
Examine attic for frost accumulation. Check roof for ice dams, icicles, or excessive snow. Carefully remove snow and ice from roof overhang/vents as required. Test exhaust fans
Spring (March, April, May, June)
Shut down and clean furnace humidifier, and close the furnace humidifier damper on units with central air conditioning.
Check air conditioning system and have serviced every two or three years
Clean or replace air conditioning filter (if applicable)
Check dehumidifier and clean if necessary
Clean windows, screens and hardware.
Open valve to outside hose connection after all danger of frost has passed.
Examine the foundation walls for cracks, leaks or signs of moisture, and repair as required.
Re-level any exterior steps or decks which moved due to frost or settling.
Check eaves troughs and downspouts for loose joints and secure attachment to your home, clean any obstructions, and ensure water flows away form your foundation.
Clear all drainage ditches and culverts of debris
Check roof for loose or cracked shingles
Check driveways and walks for frost damage
Check caulking for air and water leaks
Summer & Fall ( July - November)
Check exterior finishes. Sand, prime and paint any peeling paint due to weathering.
Monitor basement humidity and avoid relative humidity levels above 60 percent. Use a dehumidifier to maintain safe relative humidity. Clean or replace air conditioning filter, and wash or replace ventilation system filters if necessary Air out damp basement or dry, sunny daysCheck basement pipes for condensation or dripping, and take corrective action, for example, reduce humidity and or insulate cold water pipes.
Check the basement floor drain to ensure the trap contains water. Refill with water if necessary. If you have a plumbing fixture that is not used frequently, such as a laundry tub or spare bathroom sink, tub or shower, run some water briefly to keep water in the trap.
Disconnect the duct connected to the dryer and vacuum lint from duct, the areas surrounding your clothes dryer and your dryerâ™s vent hood outside.
Check security of all guardrails and handrails
Check smooth functioning of all windows and lubricate as required Inspect window putty on outside of glass panes and replace if needed
Lubricate door hinges and tighten screws as needed
Lubricate garage door hardware and ensure it is operating properly
Lubricate automatic garage door opener motor, chain, etc. and ensure that the auto-reverse mechanism is properly adjusted.
Check and replace damaged caulking and weather-stripping around windows and doors, including the door between the garage and house.
Check exterior wood siding and trim for signs of deterioration; clean, replace or refinish as needed
Check for and seal off any holes in exterior cladding that could be an entry point for small pests, such as bats, mice, birds or squirrels
Remove any plants that contact, or roots that penetrate the siding or brick.
Climb up on your roof, or use binoculars, to check its general condition, and note any sagging that could indicate structural problems requiring further investigation from inside the attic. Note the condition of all shingles form possible repair or replacement, and examine all roof flashings, such as at chimney and roof joints, for any signs of cracking or leakage.
Repair driveway and walkways as needed
Repair any damaged steps that present a safety problem.